Drive provider retention with 5 new ideas
Provider burnout is top of mind and one of the largest challenges facing healthcare today. Learn 5 new ideas that can help solve burnout and help you keep a healthy provider network.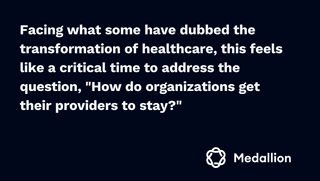 The past three years have been challenging for health systems of all sizes, and for providers, the uncertainty and stress has taken its toll mentally, physically and emotionally. As a result, the prevalence of provider burnout is intensifying.
5 innovative ways to solve provider burnout
1. Flexibility leads to scalability
We hear it loud and clear: different people have different needs. A one-size-fits-all clinical practice is not what providers in the market are looking for. Figuring out a way to be flexible but scalable and financially sustainable in your business is how we're trying to fit that perfect space between the organization's needs and your clinicians' needs.
2. Build a community of peers for providers to lean on
For virtual organizations, determine how clinicians can come together and chat like they would in a physician lounge (in more traditional practice) and strive to create that sense of community. Talk with your providers about how they want their sense of community to be developed to provide them with collegiality and support.
3. Experimentation is key – even if you don't get it right the first time
Providers become providers because they want to cure patients. They don't want to do paperwork or deal with the administrative hassle. Look at how you structure your care delivery teams and support their practice to allow them to do what they love best. Hold consistent, active conversations to stay on top of their needs.
4. Non-traditional benefits could lead to retention
Offering services to clinicians such as mental health services through apps or in-person ensures they can take care of themselves. This is one of the many non-traditional benefits a healthcare organization can offer. The key is to try to meet your providers where they are and help to provide not only a flexible working environment but other tools that will aid them in continuing to be healthy.
5. Be an advocate
Advocacy falls on the shoulders of your healthcare organization. Being able to advocate for ways to make administrative overhead easier for the people providing care is critical to reducing the types of barriers that lead to overworking, exhaustion and burnout. It's up to healthcare businesses and organizations to be the voice of their providers and advocate for their health and well-being to abate burnout and potential retention challenges.
For more information
The content in this post was taken from our annual Medallion Elevate conference during our conversation with Jennifer Close, Senior Vice President for Clinical Operations at Teladoc Health, which connects people to the right care when they need it the most. We also spoke with Wei Deng, founder and CEO of Clipboard Health which helps healthcare facilities within hospitals or nursing homes match with on-demand staff.
For more in-depth coverage on innovative ways to solve provider burnout and how to keep a healthy provider network, we encourage you to check out the original post here.
About Medallion Elevate: The Future of Healthcare Operations
At Medallion's inaugural debut, Elevate: The Future of Healthcare Operations, healthcare executives, founders and leaders came together and highlighted the collective optimism of an industry that's ready to elevate and advance the industry.
It represented actionable insights, disruptive ideas, and ground-breaking insights from some of the best healthcare leaders, visionaries, investors, and founders. For more information and to view the sessions on demand visit: https://elevate.medallion.co/events/medallion-elevate-2022/registration
Today and every day, we celebrate the critical endeavors of these health leaders and changemakers. #MedallionElevate