Medallion Announces Medallion for Salesforce on Salesforce AppExchange, the World's Leading Enterprise Cloud Marketplace
Medallion's customers can now automate credentialing and primary source verifications within Salesforce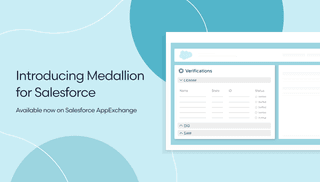 SAN FRANCISCO, Calif., August 2, 2023 - Medallion, a leader in end-to-end provider network management solutions for the healthcare industry, today announced the launch of 'Medallion for Salesforce | Provider Data Management, Credentialing & Monitoring' (Medallion for Salesforce) to automate and accelerate how providers are onboarded and credentialed at healthcare organizations of all sizes.
Primary source verifications are a necessary part of the provider operations workflow to pre-screen and onboard providers and facilitate the credentialing process. However, the workflow to manually verify primary sources is often manual and inefficient.
Integrated directly with Salesforce, Medallion's solution automates this tedious and time-intensive process. It is now available on AppExchange for healthcare organizations.
Medallion for Salesforce handles a limitless volume of primary source verifications across 193 different provider types and 47 states, including:
National Provider Identifier (NPI)
System for Award Management (SAM)
Office of Inspector General (OIG)
Drug Enforcement Administration (DEA)
National Practitioner Data Bank (NPDB)
Medicare Opt Out
State Licenses
Controlled Dangerous Substances (CDS)
Board Certifications
"Our focus has always been on automating the tedious, time-consuming tasks that are the backbone of our healthcare industry. Many of our healthcare organizations leverage Salesforce as their provider system of record, and we're excited to support these organizations in onboarding and continuously verifying a provider's identity to help ensure patient safety," says Derek Lo, CEO and Founder of Medallion. "In times like these where the administrative burden is plaguing both administrators and providers, automation of key operational processes afford organizations more time, efficiency and confidence."
With Medallion for Salesforce, healthcare organizations can:
Handle a limitless volume of primary source verifications across 193 different provider types and 47 states.
Automate verifications including NPI, SAM, OIG, DEA, NPDB, Medicare Opt Out, State Licenses (where applicable), CDS, and Board Certifications at any frequency.
Get verification returns with a reliable system every time.
Receive proof of verification directly within Salesforce.
Sync their Salesforce provider data with Medallion.
To learn more or speak with a member of the Medallion team, please visit medallion.co/solutions/medallion-for-salesforce.
About Salesforce AppExchange
Salesforce AppExchange, the world's leading enterprise cloud marketplace, empowers companies, developers and entrepreneurs to build, market and grow in entirely new ways. With more than 7,000 listings, 11 million customer installs and 117,000 peer reviews, AppExchange connects customers of all sizes and across industries to ready-to-install or customizable apps and Salesforce-certified consultants to solve any business challenge.
Additional Resources
Salesforce, AppExchange and others are among the trademarks of salesforce.com, inc.
About Medallion
Medallion is the first solution built from the ground up to help healthcare organizations rise above regulatory complexity and offload their provider operations through a single, unified platform. By handling medical state licensure, payer contracting and enrollment, credentialing, ongoing monitoring and more, Medallion makes it faster, easier and less expensive for our partners to operate. Since 2020, Medallion has saved 250,000+ administrative hours for leading healthcare organizations. We evolve operations so healthcare organizations and their providers are free to evolve care.