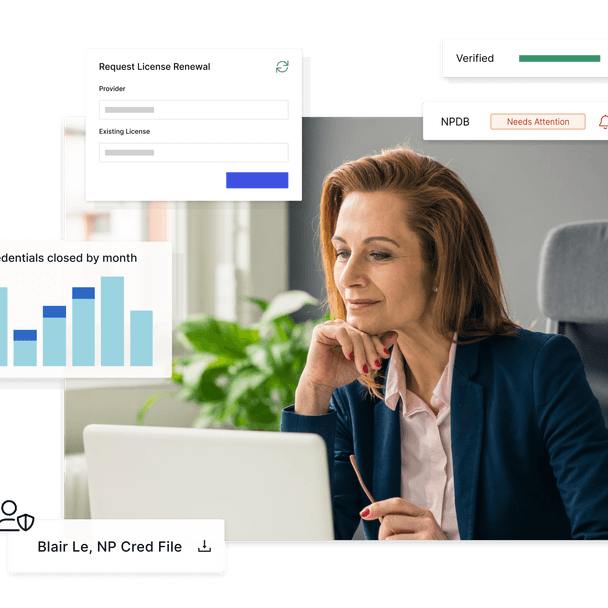 PRODUCTS FOR PROVIDER NETWORK OPERATIONS
Products that solve your provider operations challenges
From provider data management to licensing and CE tracking, discover Medallion's suite of products tailored to streamline and optimize every facet of your operations.
Medallion works with hundreds of
,
and
Medallion works with hundreds of provider groups and health systems, payers, and digital health companies.
MEDALLION PLATFORM AND TEAM
Trusted by leading healthcare organizations daily
32K+Providers on our platform

500K+Hours of administrative work saved

78K+Licenses, enrollments & credentials completed
Provider data management
Get more visibility and control over your your provider network than ever before
Credentialing
Get comprehensive, NCQA-compliant credentialing with an intelligent platform, expert team or combine both for unparalleled efficiency.
Payer contracting & enrollment
Negotiate, enroll, and maintain provider CAQH profiles with confidence
"

Working with Medallion was a total game-changer for us. Medallion's team understood our needs and quickly implemented solutions that allowed us to scale at a pace we didn't think was possible. They credentialed our full year's forecast of providers in just one month - that's efficiency.

VP of Network Development

at a Tennessee-based insurance payer

"

Medallion's platform is very intuitive, and we have very few providers reaching out asking for help.

Matthew Ortiz

Vice President of Payor Strategy and Relations

Read case study

"

The robust security and IT review carried out by Medallion has given us the confidence to continue expanding our team. Their solutions have truly transformed our licensing process, making it easier for us to onboard new staff in less time.

VP of Medical Affairs

at a leading national payer

"

Without Medallion, we would have had to hire another person. Medallion frees up 10-15% of our team's time.

Raj Inamdar

Director, MSO affiliate

Read case study

"

I would recommend Medallion to anyone in clinical operations.

Irina Shtemler

Clinical Network Operations Lead

Read case study

"

We received a number of licenses very quickly – as in three providers in 15 states in under four months.

William Giandoni

CO-FOUNDER

Read case study