Medallion introduces Elevate—the conference advancing healthcare operations
The inaugural conference will bring together leaders, visionaries, investors, and founders for an unscripted conversation to explore where healthcare needs to go from here.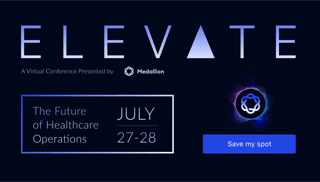 Medallion, the modern provider management platform, today announced Medallion Elevate, the company's inaugural conference that's leading the charge to advance healthcare operations. This virtual event taking place on July 27th and July 28th, 2022 will bring healthcare and technology leaders together to discuss how the industry must advance to address its most pressing issues.
"We started Medallion Elevate to bring together leaders in the healthcare space who care deeply about the problems we face today in the industry." says Derek Lo, CEO of Medallion. "A quarter of the $4T spent annually on US healthcare goes towards healthcare administration. We believe there are massive efficiencies to be gained that will ultimately reduce the cost of care and increase quality and access. We're excited to bring together this incredible group to discuss these issues and work towards moving the industry forward."
In its inaugural debut, the conference's theme The Future of Healthcare Operations highlights the optimism of an industry that's ready for change and provides actionable insights on how operational, clinical, and executive leaders can help lead the transformation.
For the event's keynote speakers, Elevate welcomes John Prince, President & COO at Optum, and Ann Mond Johnson, CEO at the American Telemedicine Association (ATA).
Dedicated to helping make the health system work better for everyone, Optum is focused on simplifying the patient and provider experience to drive needed change. Keynote speaker John Prince will sit down with Medallion's CEO and Founder Derek Lo to discuss how Optum is helping to create a connected system that operates transparently and efficiently, and at a lower cost, for more people.
Working to advance the future of telehealth, keynote speaker Ann Mond Johnson is—and has been—on a mission to change healthcare using telehealth long before it became a norm. In her conversation with Lo, they'll explore where telehealth and virtual care can go now that it's a staple for both providers and patients.
Prince and Mond Johnson are joined by more than 30 founders, executives, investors, operations leaders, and clinical experts from some of the biggest names in healthcare. The current speaker list as well as session information is available on Elevate's event page.
"Both John and Ann have made it their mission to help transform healthcare," says Lo. "I'm honored to be sitting down with the both of them and to share their expertise with the greater community."
To register for this year's Elevate conference—and access the latest information on sessions, speaker announcements, and other event information—visit Medallion Elevate.