Demystifying multistate licensing for telemedicine
Telehealth has skyrocketed but so have the challenges of practicing medicine across state lines. We address the challenges faced by telehealth providers, new changes in legislation, and how to ease the process for obtaining multistate licensure.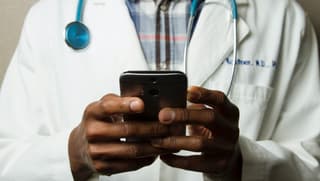 As healthcare systems struggled to provide safe patient care during the coronavirus, patients and clinicians credited the availability of telehealth technology as a silver lining. But for multistate providers, navigating the regulatory labyrinth to obtain licensure to practice telemedicine across borders still presented a challenge.
Patient usage of telehealth programs skyrocketed throughout the pandemic. In April 2020, McKinsey & Company found that overall telehealth utilization for office visits and outpatient care was 78 times higher than in February 2020. Further, with consumers' comfort level with telehealth services improving, researchers estimate that up to $250 billion of U.S. healthcare spend could potentially be shifted to virtual or virtually-enabled care in the future.
While the initial surge seen during the crisis has somewhat stabilized since then, the vast set of rules put in place by state and federal policies for healthcare providers to deliver telemedicine in multiple states remains a mystifying and outdated process.
In a recent article for the New England Journal of Medicine, the authors describe stories of "patients driving several miles to cross a state border to attend a primary care telemedicine visit from their car … because their physician wasn't licensed in their state of residence."
With both physicians and patients looking to reap the benefits of telemedicine, it's clear the debate around easing interstate licensing restrictions will remain on the table.
State medical licensure requirements ‍
As telemedicine begins to play a bigger role in healthcare, providers need to understand the requirements for obtaining a medical license in multiple states. To start, every state has its own rules and regulations on licensure set up by their respective state medical board. And despite providing patient care virtually, every clinician practicing telemedicine must be licensed in the state where the patient lives in order to provide a visit.
Because each state has different licensing requirements, the items included in each application may differ. A failure to understand the laws, rules and regulations regarding telemedicine in each practicing state could mean risking disciplinary fines or penalties, increased exposure to medical malpractice claims, or result in the loss of a clinician license. Generally, state medical boards require:
Proof of graduation from an accredited medical school
Evidence of residency 
Payment of fees 
Other requirements may include written essays, exams, criminal background checks and in-person interviews. For providers looking to practice telemedicine in-person interview requirements can become especially cumbersome, as driving to each state to participate in interviews may not be feasible.
With standard state licensure taking anywhere from a few weeks to up to six months, it's no surprise that healthcare providers are seeking out more seamless options for medical licensing.
There is hope for healthcare organizations looking to integrate telemedicine into their systems. After COVID-19 was declared a Public Health Emergency (PHE), the Department of Health and Human Services sought to ease some of the licensing obstacles preventing the delivery of telehealth care. The agency issued a regulation to allow Medicare coverage for services provided by healthcare professionals practicing telemedicine out-of-state. Similarly, many states waived or modified licensing restrictions during the health crisis.
Still, many of these measures are temporary leading to uncertainty in the industry. Updated information for state licensing requirements can be found in the Federation of State Medical Boards.
Improving Licensing Portability: The Interstate Medical Licensure Compact
The growing advances in telehealth has many healthcare professionals calling for improved licensing portability. For physicians interested in applying for multiple licenses, the Interstate Medical Licensure Compact (IMLC) is one group steering the telehealth licensing evolution.
Also known as the Telemedicine Licensure Compact, the IMLC is a legal agreement among participating states that allows them to work together to streamline the licensing process for physicians looking to practice in multiple states (there are other compacts as well, like the Nurse Licensure Compact or NLC, for nurses).
The IMLC was formed in 2013 to maximize the potential of telehealth advances and expand access to underserved areas. It also sought to remove discouraging barriers related to interstate practice, including:
The variety of state-specific medical practice regulations
Submitting separate applications to each state in which they desire to practice
‍The group expedites the licensing process by enabling physicians to qualify to practice in multiple states by submitting a single application. In turn, physicians can remove the burden of manually submitting multiple applications and paying fees to each state. Instead, they pay a single administration fee of $700 to join the Compact and receive separate licenses for a nominal fee from each state by meeting the uniform qualifications of the commission.
To become eligible for multistate licensing through the compact, a physician must obtain a Letter of Qualification (LOQ). To meet the qualifications for the IMLC a physician must:
Have graduated from an accredited medical school
Successfully completed the ACGME or AOA accredited graduate medical education
Have passed the USMLE, COMLEX-USA or equivalent in no more than three attempts
Be board certified
Must not have any criminal history or history of disciplinary actions on any medical license 
As of July 2021, the IMLC announced that 30 states were active participants in the Compact, and more than 21,057 licenses had been issued to physicians.
By giving patients more options around how and where they receive care, researchers see compacts as an opportunity to create a more competitive marketplace — and provide greater access for patients who live in regions with fewer licensed providers. For providers, it allows them the opportunity to expand their patient services and compete for higher salary jobs outside of their primary state.
That said, the Compact is not operational in all 50 states leaving many physicians without an easier option to obtain interstate licensure.
The future of telehealth licensing
Following the pandemic, many healthcare providers, organizations, and policymakers are calling for changes to what they perceive as outdated state medical licensing rules. While many people agree that states should continue to control licensing and oversight, others argue that creating a federal licensing system — similar to the drivers license system — makes sense in an era of telemedicine.
With so many modifications to medical licensing underway, it's become more difficult to keep track of all of the licensing requirements issued by each state. Lean on Medallion to simplify the process. Medallion supports healthcare companies and providers through our all-in-one, automated platform for credentialing, licensing, payor enrollment and continuous provider monitoring.
With Medallion's automated licensing platform, we can help reduce the time delays and resource burdens associated with multistate licensing for telemedicine providers. We process physician licenses in all 50 states and can help navigate the requirements put in place by the compacts, including the IMLC, to help you license your telemedicine staff faster.
Command control over every part of your provider operations process
See how Medallion frees you from complicated workflows and administrative overload.