Geoff Price's 3 tools for building better healthcare

By Medallion
Oct 12, 2023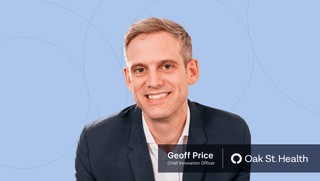 Chief innovation officer Geoff Price talks about the transformative potential of contemporary tools and solutions for healthcare organizations, highlighting their pivotal role in Oak Street Health's growth story.
At our annual Elevate conference, Medallion's Founder and CEO, Derek Lo, sat down with Chief Innovation Officer of Oak Street Health, for a candid conversation. They discussed the catalysts behind Oak Street Health's impressive expansion from a Chicago-centric operation to a presence in 25 states, and the tools that played a key role in shaping that transformation.
Geoff opens up about how Oak Street Health's patient-centric philosophy has helped the company scale to new heights. He urged fellow leaders to think of their roles beyond conventional boundaries, offering a fresh perspective on what they accomplished at Oak Street Health. For those who might prefer to watch or listen, we've provided the full conversation in our Resources Library.
3 tools for building better healthcare
Tool #1 
Build tools that will remove stigma. One monumental challenge faced by Oak Street Health as they grew, was the pervasive stigma against primary care itself. As Geoff shared, many saw primary care as the less impressive, low-reimbursing younger sibling of the specialty care system. It's a mindset that Geoff and his team sought not only to challenge, but completely dismantle. They went on to change the concept of primary care, showcasing its potential to transform patients' lives and efficiently manage healthcare costs.
Tool #2 
Build tools that champion personalized care. Oak Street Health's strategy centered on crafting services tailored for their primary demographic: senior citizens on Medicare. This hyper-focused approach enabled them to intimately understand this community's requirements and refine their services accordingly. Geoff shared that this has been both a battle steeped in complexity and an opportunity rich with innovation. Despite the occasional skepticism and doubt from the traditional healthcare ecosystem, Oak Street Health has continued to thrive, thanks to their unique pairing of bold vision and strong operational execution. They are firm believers in gathering the right team, diligently composed of intelligent, committed, mission-driven individuals.
Tool #3 
Build tools that are tech-forward. Geoff champions the transformative power of technology. He's convinced that leveraging data and tech can exponentially enhance the healthcare sector's efficacy. Oak Street Health's proprietary tech platform, Canopy, is a great example of this conviction. Geoff also emphasized the untapped potential of predictive analytics and AI. While the healthcare world is still navigating these waters, he believes today's challenges will morph into tomorrow's opportunities.
The Oak Street Health impact
The innovative practices at Oak Street Health have led to some impressive impact, reducing admissions by a staggering 50% compared to non-Oak Street patients. They have also achieved high patient satisfaction scores and a strong provider satisfaction rate. Price urges for more innovation and entrepreneurship in healthcare, and the alignment of interests of patients, providers and payers.
Among all the unique and hard-won insights Geoff shared in our conversation, it's his forward-thinking, relentless and passionate work in healthcare that remains the most impressive. His journey is a testament to the power of entrepreneurship and innovation in transforming a significant industry that affects us all. 
As we look towards a future brimming with advanced technology, Geoff challenges us not just to be healthcare leaders but visionaries, championing audacious reforms for the best patient care delivery.
Medallion Elevate
Medallion Elevate brings together a community of healthcare leaders, visionaries and practitioners who are all driven by the shared goal of progressive transformation in provider network operations. Through thoughtfully curated sessions and intimate 1:1 fireside chats, get the tailored insights you need to help you overcome your toughest operational challenges and elevate healthcare together as one.