Healthcare compliance is too important to be this complicated
The focus and investment on healthcare transformation has been prioritized on the front end of care. Patients need advocates to create new models to help them receive the best care for the right condition. But we're missing a counterweight on the other side of the equation. It's time to innovate on the backend-- the unsexy infrastructure that quietly hums in the background of our healthcare system.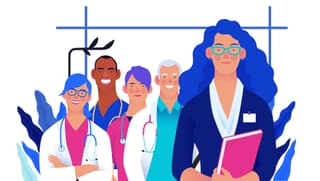 Fixing healthcare. That's the new aspirational target for so many leaders and innovators today (for good reason). We know the system has been a mess for decades, and never before have we seen such transformation in an attempt to clean it up.
From patients finally embracing telehealth and virtual care, to consumer demand driving new models of care, to investment in technology and diverse populations-- all with the goal of increasing access like never before. It's a pretty incredible time to be in this industry. Here's the formula: Find the patients, give them the unique care they need, surround them with support, make it affordable, and drive better outcomes. It's a vision worth chasing.
The investment here has been unprecedented. Total corporate funding for digital health companies in 2020 was $21.6B. We also witnessed seven digital health IPOs in 2020, including One Medical, GoodRx, Oak Street Health and Amwell, for a combined market cap of $37B. Since 2017, investment in virtual care and digital health companies has attracted 3x the level of venture capitalist investment, leading Mckinsey & Company to project that up to $250 billion of U.S. healthcare spend could potentially be shifted to virtual or virtually-enabled care.
Many are succeeding, which is a benefit to us all. Take a look at the changemakers committed to reimagining patient access like Ro, Cityblock Health, Ginger, Folx, Bicycle Health and so many more. However, the majority of the focus and investment seems to be on the front end of healthcare-- and it makes sense. Patients need advocates to create new models to help them receive the best care for the right condition. But we're missing a counterweight on the other side of the equation. While I applaud those who are kicking open the front doors of healthcare, we can't overlook the backend-- the unsexy infrastructure that quietly hums in the background.
What is healthcare infrastructure exactly? It's how the system is funded, how data moves between systems, how quality care is ensured, how it's regulated to protect those who are most vulnerable, and so much more. I could argue that it's maybe the most important dimension of the healthcare system. State regulations, board requirements, payer relationship management, care documentation. It's a pretty big ocean to boil, so to speak. Where do the visionaries who are attracted to the behind-the-scenes work even begin to identify which problem to tackle first?
A critical area that needs immediate attention is related to quality care-- and credentialing is its cornerstone. Whether a care organization is hiring a new clinician to care for their patient population, or seeking reimbursement from an insurance company, they've got to background check the clinicians treating patients. No question about whether this is needed, but the process by which provider groups and payers go about this is highly antiquated.
Credentialing is the process of examining, reviewing and verifying that a candidate's professional licenses, certifications, experience, and education are in order and all occupational and related criteria are met.
The credentialing process is straightforward and methodical, however imperfect. It starts with clinician onboarding and data gathering. Then moves into the next phase, primary source verification. In this step, the foundational file for a clinician is built according to certain standards, such as those provided by the National Committee for Quality Assurance (NCQA). Next, the files are reviewed and flagged for areas of potential concern, for example:
Does the psychiatrist have a malpractice suit in litigation? 
Does the physician assistant have a lapsed state license? 
Does the nurse practitioner have unsatisfactory peer references?
Once these types of issues are triaged, then a committee reviews the flags to make approval or denial decisions. Then a roster is developed and monitoring is managed over time to ensure clinicians remain in good standing to deliver patient care.
Shouldn't quality checks be thorough? Absolutely. Compliance processes are 100% necessary and critical. But being meticulous and accurate doesn't mean that patients should wait weeks or months for a care provider to be available or to qualify for reimbursement for their professional services. Physicians, social workers, nurse practitioners and other providers shouldn't have to stand by idly waiting for the approvals to deliver care. The fact is, healthcare compliance is too important to be this complicated.
Today, we have lightning fast access to our personal credit reports, our driving records, and our banking information. Imagine a world where we could rapidly get access to quality records of clinicians, too? I believe it's possible. That's what I've set out to solve.
The standards of healthcare compliance and quality shouldn't be lowered — in fact the bar should remain as high as ever. But I believe we have an obligation to make it easier and quicker for health organizations to reach the highest bar. We can meet these high standards through more efficient means —decreasing time and money while increasing visibility and accuracy.
By building this critical component of healthcare infrastructure, we're paving the way for new digital health innovators entering the market to kick open the doors of patient access even wider than ever. By bringing forth new pathways to specialty care or new avenues for underserved patient populations, we are enabling all providers to continue raising the bar for quality care delivery.
At Medallion, we believe the key to expanding patient access starts by removing the red tape that is holding our healthcare system back. By leveraging advanced technologies, such as workflow management, machine learning, automation and aggregation of data, we can empower clinicians to get to work faster —and ultimately patients to rapidly get the quality care they deserve.
Our credentialing licensing Saas platform enables our healthcare partners to license providers in multiple states, enroll clinicians with payers, and verify and monitor credentials to ensure strict compliance, no matter how state regulations or payer requirements may shift.
Medallion's technology also makes it possible for care organizations to reduce overhead, so they can apply savings to other critical areas of care delivery where they need it most.
By eliminating administrative inefficiencies and accelerating the path to compliant care delivery, we're helping healthcare organizations focus on what they do best: providing more patients better care. If you'd like to learn more about what Medallion can do for your organization, request a demo today.