Here's how payers can modernize the credentialing process
Verifying provider credentials is a resource-intensive process that adds cost and time to the payer's bottom line. As more health plans look to achieve greater efficiency throughout the credentialing process, automated credentialing can help.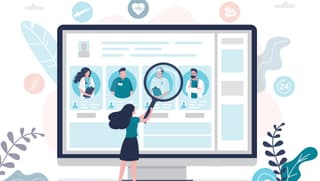 Following a couple of monumental years in healthcare, insurance payers are wrestling with new challenges as physician networks continue to expand and the industry considers how to navigate credentialing and enrollment for tele-health providers.
As providers continue to welcome back patients and implement virtual care services, the volume of clinicians requesting participation in insurance panels has swelled. Though temporary measures were put in place to expedite credentialing throughout the pandemic, many managed care plans are looking to streamline the process into the long-term.
In the past, insurance companies have largely relied on in-house hospital credentialing teams to field the provider's application and medical credential files. But it's becoming more challenging for a number of reasons, holding up the verification process: payer-specific documentation and credentialing requirements evolving and becoming more complex, including overwhelmed medical staff offices, incomplete documents or error-ridden files.
The lengthy review process can also frustrate providers. In fact, a survey published by RevCycleIntelligence found that roughly 80 percent of providers were dissatisfied with how their healthcare organizations managed the credentialing process, citing the amount of paperwork, complexity of information required, and the length of time to receive acceptance as factors for their disapproval. The average credentialing and payer enrollment process typically takes between 90-120 days.
Payers face similar frustrations when working to verify credentials for physician groups seeking in-network participation. A few common issues that can arise during the initial credentialing process include:
Incomplete paperwork
Missing signatures
Incorrect taxonomy codes
Demographic discrepancies
Outdated W9 or CAQH profile
Ultimately, the back-and-forth between plans, busy providers and healthcare systems creates a bottleneck that can result in substantial administrative costs and affect revenue generation for both parties stuck in the waiting game.
If there aren't enough enrolled providers available to deliver low-acuity care, then delays in patient access can have a monumental effect, and in some cases driving up severity of conditions and ultimately cost of care.
Consider this: The 30-day, all-cause national readmission rate is 13.9%, according to 2016 data, but the rate can vary depending on payer type, geography and individual hospitals. Lowering the readmission rate by just one percentage point could save billions in healthcare costs and lost productivity. By speeding up time to enrollment for provider groups, payers can create a more favorable environment for driving down overall cost of care.
Healthcare's digital transformation
Today, verifying provider credentials is a resource-intensive process that adds cost and time to the payer's bottom line. As more plans and hospitals look to achieve greater efficiency throughout the credentialing process, they are turning to digital platforms and processes that can help payers effectively manage provider data.
While the healthcare industry was slowly embracing modern technologies before 2020, it's no secret the pandemic has sped up the pace. According to PwC's Health Research Institute, as healthcare organizations straddled revenue losses and virtual care exploded during the year, health systems began adopting new digital pathways that have ultimately reshaped healthcare delivery.
‍
Reporting for Healthcare IT News, writer Bill Siwicki said in his summary of the findings:
"Nearly overnight, as volumes dropped precipitously, the deadly pandemic thrust patients, doctors, pharmaceutical companies and payers onto virtual platforms and other digital technologies."
The digital transformation in healthcare is underway. The survey found at least 73 percent of provider executives said their organizations are automating physicians' administrative tasks as part of the change. And nearly 50 percent of payer executives surveyed by HRI said their organization is investing in digital product support and educational tools to improve the member experience.
When it comes to supporting provider credentialing and payer enrollment processes, insurance payers will continue to leverage the growing availability of digital tools and follow suit.
Delegated credentialing for payers
Many industry experts argue the similarities in the credentialing processes for hospital and healthcare systems and payers are outdated and lead to duplicate, time-wasting activities. Fielding unnecessary administrative complexity can also lead to increased overhead costs.
According to the Center for American Progress, excess health care billing and insurance-related spending amounts to nearly $248 billion annually. Even for smaller payers, the delays in reimbursement stemming from credentialing challenges negatively impact the bottom line.
The CAQH system was created to alleviate some of those administrative burdens. CAQH is an online provider database that enables physicians and other healthcare professionals in all 50 states to enter detailed practice information into a central database. This information can then be accessed by an authorized health plan or other healthcare organization for credentialing review.
Another way health plans can stay ahead of the curve and keep provider data current is through delegated credentialing. According to the NPDB Guidebook (National Practitioner Data Bank), delegated credentialing occurs when a healthcare entity gives another healthcare entity the authority to credential its healthcare practitioners.
While some larger healthcare organizations have agreements to perform the credentialing process on behalf of the insurance payers, some payers turn to the assistance of a Credentials Verification Organization, or CVO, to handle credentialing.
A CVO can help payers perform credentialing and help health plans stay compliant with ongoing monitoring of state medical licenses, NPDB, OIG, SAM, CAQH maintenance and more. They can also facilitate the collection of documents, ensuring providers have all the required information ready ahead of a credentialing request.
By allowing another healthcare entity to facilitate credentialing, payer organizations can drive more efficiency in their credentialing programs, eliminate weeks off of the process, and bring providers in-network, sooner.
Automated credentialing is here
It's time to modernize the credentialing and payer enrollment process. Medallion removes the need for manual credentialing with its enterprise-grade network management platform. Our technology automates credentialing and monitoring, so payers can invest their time and resources into their health plan services. With powerful integrations with CAQH, NPDB, and State Medical Boards and smart notifications, payers can rest assured that providers' licenses are current and patients are safe under their care.
Medallion supports payers through our all-in-one, automated platform for delegated credentialing and continuous provider monitoring. Let us help you remove the lag-time and complexity from your compliance processes, effortlessly managing your provider network.
Last updated: February 7, 2023
Ready to evolve your provider operations your own way?
Free yourself from complicated workflows and administrative overload.