Medallion + Checkr: Streamlining background checks in healthcare

By Medallion
Oct 19, 2023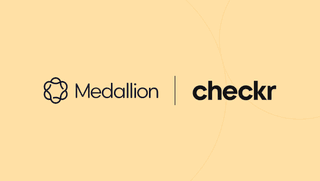 Imagine a dedicated nurse named Jessica, excited to start her new position at a leading healthcare facility. She's passed her interviews and completed her training. Now, she eagerly awaits her background check results. 
But days turn into weeks. The healthcare organization she hopes to join struggles with disjointed systems, causing delays. 
This scenario, all too common in healthcare today, underscores a pressing challenge: How can credentials of professionals like Jessica be verified promptly without sacrificing thoroughness?
This is where the transformative Medallion and Checkr partnership comes into play. 
The urgent need

for trust and efficiency in healthcare

In today's healthcare environment, there's an essential balance between trust and operational efficiency. Both medical institutions and patients base their relationships on the credibility of care providers. 

However, existing processes for vetting these providers can be fragmented. This results in inefficiencies running and storing provider background checks. 

A study by Merritt Hawkins shows a one-day delay in provider onboarding can cost a medical group more than $10,122. Such inefficiencies not only stretch resources but also prolong onboarding times, impacting service delivery and patient trust.
Medallion's integration with Checkr: A unified approach
Amid financial pressures and growing demands in healthcare, the Medallion and Checkr partnership sets a new industry standard. This collaboration addresses the significant provider onboarding delays that can compromise patient care, revenue and overburdened operations teams who are already asked to "do more with less."
This partnership integrates Medallion's comprehensive provider network management platform with Checkr, a top-tier AI-driven background screening tool which empowers organizations to:
Seamlessly run and store provider background checks directly within Medallion.

Fully automate provider data management.

Remove reliance on numerous, often fragmented, operational tools.

Significantly expedite the onboarding process by amalgamating provider data, records and background checks into one unified system.
The Medallion + Checkr advantage: trust and innovation combined
The collaboration between Medallion and Checkr unveils several strategic benefits:
It offers a significant trust factor:
Medallion's robust platform acts as a single source of truth for provider data. This not only elevates patient care but also provides healthcare organizations with a concrete foundation for informed decision-making.
It streamlines compliance:
The integration taps into Checkr's modernized background checks, enabling healthcare organizations to efficiently validate the credentials of their health professionals. This ensures a continuously compliant workforce, underlining the commitment to uphold the highest patient safety standards.
It elevates operational efficiency:
The fusion of Medallion's interoperability and Checkr's thorough verification processes leads to unmatched operational benefits:
Minimizing back-and-forth communication with practitioners.

Decimating data silos.

Substantially cutting down administrative overhead.

Optimal allocation of resources across the board.

Be part of the transformative journey with Medallion and Checkr
Healthcare is evolving, requiring both efficiency and trust. For professionals like Jessica and many others, the union of Medallion and Checkr signals not only a faster onboarding process but also a transformative shift in healthcare.
Health entities can now enjoy a unified provider data experience, simplifying data management while ensuring steady compliance and heightening operational efficiency. 
By uniting trust and efficiency, we're setting the stage for a brighter, smoother future for care providers and patients. Gone are the days when devoted healthcare professionals face administrative setbacks. With Medallion and Checkr leading the way, the healthcare future appears not only efficient but also profoundly reliable.
Discover more about Medallion and Checkr at medallion.co/partners/checkr
About Medallion
Medallion is the first solution built from the ground up to help healthcare organizations rise above regulatory complexity and offload their healthcare operations through a single, unified platform. By handling medical state licensure, payer contracting and enrollment, credentialing, ongoing monitoring and more, Medallion makes it faster, easier and less expensive for our partners to operate. We evolve operations, so healthcare organizations and their providers are free to evolve care. 
About Checkr
Checkr powers people's infrastructure for the future of work. With artificial intelligence and machine learning, our platform and solutions make background checks faster, easier, and more compliant. Using Checkr's advanced screening technology, companies can better understand the dynamics of the changing workforce, bring transparency and fairness to their hiring, and ultimately build a better future for workers.