Head of credentialing at Medallion on three ideas that ease the pain of provider credentialing
Drive bottom-line impact with three ideas to ease costs and resource burdens.

By Medallion
Sep 15, 2022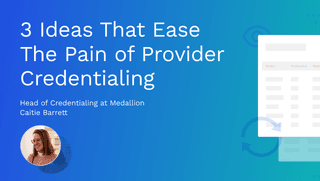 We all understand the significance of quickly getting doctors, nurses, therapists, and providers of all specialties in-network with payors to expand our organizations and reach of care.
Yet, in this day and age, navigating the provider credentialing landscape comes with an air of distress–and a degree of undisputable pain.
And we get it. It is a pivotal time in healthcare, with many organizations transforming how and even where they conduct business. At the same time, as this Medscape poll shows, provider burnout is intensifying. The American Medical Association predicts that the U.S. will face a projected shortage of up to 124,000 providers within 12 years.
Provider credentialing is a laborious and necessary process that requires precision, attention to detail, and patience. With that, it's never been more critical for healthcare organizations to build the right internal processes that deliver quality, accessible patient-driven care while simultaneously supporting those who need it the most internally.
Today, when a health organization is up against the clock and faced with submitting documentation, keeping up with location and information changes, and navigating the complexities of regulations, accreditation, and certifications, doing it all as they keep their providers focused on patient care, can be a challenge.
Caitie Barrett leads the Credentialing team at Medallion and has processed 150,000+ credentialing files in her professional experience. She has partnered with provider groups and digital health companies to stand up their delegated agreements, as well as directly with payers to optimize and streamline their credentialing processes.
Caitie believes there are steps to take that can ease the burden around credentialing because as an organization looks to expand, streamlined workflows and processes become more critical to impact the speed of growth and create opportunities to improve provider satisfaction, retention, and the patient experience.
We sat with Caitie to talk about the many nuances of provider credentialing and how to create efficiencies that can help alleviate the cost and resource pains many health organizations feel. Here are some of our favorite takeaways from the conversation:
Examining the complexities of provider credentialing
"Healthcare organizations have always faced operational challenges relating to their provider networks, whether having a single source of truth for a provider record or getting engagement from a provider to share the required information," says Caitie.
Here are the common challenges most organizations are up against right now:
Lengthy processes and timelines
Provider credentialing is not historically synonymous with speed, and recent survey data published by RevCycleIntelligence reveals that 80% of providers report feeling dissatisfied with how their healthcare organizations managed their credentialing process.
That's no surprise: as Caitie notes, the average credentialing and payor enrollment process typically takes between 90-120 days, given the amount of paperwork to complete, the complexity of information required, and the time to receive acceptance from payors.
Additionally, as more insurance providers and government regulators engage more with healthcare organizations, it's only increased the volume of data needed to be collected and retained in the provider credentialing and recredentialing process, often leading to longer waiting times.
Decentralized operations and inefficient workflows
Today, there are a lot of different places to check on a provider's status or verify the information's accuracy. As more state boards embrace technology, there are many new portals and websites to navigate, which has only increased the time spent tracking this information and has left more room for inaccuracy and errors because not everything is in one place.
The process quickly becomes overwhelming when an organization is looking to expand their provider network coverage across multiple state lines, scurrying to onboard new providers and get them licensed in additional states. A decentralized operations workflow also drives more denials because of inaccurate data collection: Recent data from the Medical Group Management Association (MGMA) shows that 54% of medical practices report denials regarding provider credentialing have increased and are a growing issue for their practices within the last year.
Lack of providers' time and resources
"We know from experience that one of the top challenges of getting providers credentialed is getting providers to fill out that data in the first place, whether due to time constraints or just the amount of administrative paperwork needed for each part of their onboarding process," says Caitie.
This drains provider energy and enthusiasm and clutters administrative staff time. Providers are the lifeblood of an organization. Providing them with a steady, reliable, clear path free of administrative burdens and on track to seeing their patients means everything for an organization's success and reputation.

Three ideas to ease the pain of provider credentialing
For successful organizations, achieving an efficient credentialing process has primed them for success in delivering provider-patient care and created opportunities for alleviating provider burnout. For this reason, healthcare organizations have a unique opportunity to capitalize on this moment.
"We've seen organizations successfully navigate the intricacies and ease the administrative burden by adding three critical elements in their credentialing process," Caitie says. Here are the ideas to explore:
1. Embrace automation to improve workflows and data acumen
As the data from this CAQH survey shows, provider groups that use multiple methods for credentialing processes spend roughly 40% more on associated administrative costs than those that use a single platform.
"Directory maintenance costs provider groups nationwide $2.76 billion annually. Updating directory information costs each practice $998.84 on average every month and requires the equivalent of one staff day per week." –CAQH, The Hidden Cause of Inaccurate Provider Directories.
Optimizing workflows and leveraging the right tools to help admin operations teams be efficient can significantly improve the speed at which an organization brings providers in-network and set the organization up for long-term success.
Automation equals improved efficiency, and with that, an organization can reduce the time admins spend switching between tasks without losing data accuracy to help them deliver better patient care by leveraging automation.
For healthcare organizations, "look for a tool that integrates seamlessly to create a unified platform that helps you do more in one place," says Caitie. "There is always going to be human power in the healthcare space. Yet having an optimized platform you can leverage allows you to reduce time spent researching, switching, and doing busywork while providing more accurate data, faster onboarding times for providers, and streamlines your time and resources."
2. Explore delegated agreements
A delegated agreement allows payers to delegate the credentialing responsibility to their provider organizations. These arrangements enable the provider organization to credential their providers once and provide the information across all of the plans they have delegated agreements with instead of going through the lengthy enrollment process each time.
Though this may seem like an easy way to speed things up, the path is not always as simple as it could be. According to Caitie, "If you're new to the space or not familiar with all the things that go into credentialing providers, it can be difficult to navigate varying requirements and processes. Medallion helps you get there. We have all the information and data ready to roll into any part of the process–from primary source verification to committee management."
Established regulators like the NCQA and CMS focus on quality assessment of health plans. Healthcare organizations must comply with each accreditation body's guidelines, standards, and regulations to eliminate bottlenecks for faster provider onboarding and reimbursement.
Working with an NCQA-accredited third-party organization can help solve this challenge because the accreditation guarantees that the organization is already following the correct regulations appropriately. Many payers require the groups they delegate credentialing to to have this certification, and even those that don't view it as a reason to trust their delegates are working with high quality.
3. Streamline by working with a CVO to support credentialing and enrollment
Resource allocation has always been an issue for most healthcare organizations, but recent events have accelerated it. Staff and provider burnout is at an all-time high–the Medical Group Management Association (MGMA) reports that almost half (45%) of American providers experienced burnout sometime in the past two years.
"Though delegation agreements can speed up the credentialing process overall, the data and quality measures are still fragmented across healthcare organizations and health plans, and each plan may have different data requirements and schedules for roster submissions, making it tough to manage the process and leaving room for errors," says Caitie.
A recent Centers for Medicare and Medicaid (CMS) audit confirms that idea by pointing out that 48.7% of the provider directories surveyed included at least one inaccuracy. This puts a provider at risk of denials and potentially having to start the entire process from top to bottom, reducing an organization's ability to scale.
Efficiency is all about doing more with the resources and tools available. For healthcare organizations, it might mean looking to people and teams who've already built long-term relationships with payor groups and have contacts at the boards to facilitate faster timelines to credentialing.
An end-to-end platform like Medallion combines automation with personal human support for faster provider onboarding, credentialing, and reimbursement. It can empower any size team because it improves control and visibility of provider data, allows organizations to scale operations, ensures an organization is audit-ready, and reduces financial risk while alleviating frustration and burnout for providers.
The path forward
Provider credentialing is a resource-intensive process that adds cost and time to an organization's bottom line. Caitie says, "Healthcare organizations should consider that achieving efficiency and creating better internal processes might involve exploring automation, delegated agreements, or streamlining by working with a CVO." As more organizations look toward greater process efficiencies and combat provider burnout, many are turning to digital platforms like Medallion to help effectively and accurately manage their provider data and credentialing–built right into our state-of-the-art software platform.
Command control over every part of your provider operations process
See how Medallion frees you from complicated workflows and administrative overload.