Three takeaways investors make of the health-tech market right now
While we may not know how long this period of slowed health-tech funding will last, it's clear possibilities for investment are on the table. Learn what it will take to catch the attention of investors in this space.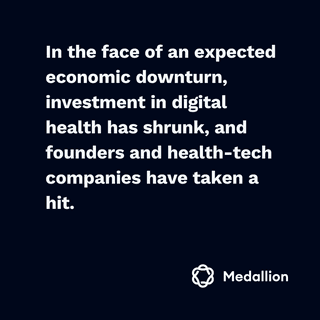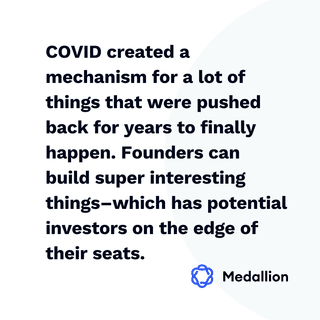 Health-tech funding is down but optimism is high. Here are three ideas to break into the scene, according to three top investors:
1.) The right deals are flourishing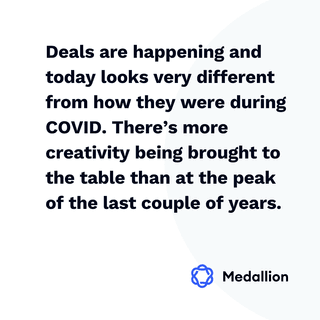 Fewer companies are entering the market in this current period to fundraise unless they absolutely need to or have a strong position to tell their story. As a result, deals look really different. It wasn't common to see creative deal structures coming to the table during the COVID period.
Today there's more creativity being brought for companies that are still really strong. Great companies that may be valued a little bit differently in the market that we look at today are perceived as being different than at the peak of the last couple of years.
Ultimately, what investors are looking for in terms of good investment opportunities has shifted. Growth is very attractive, but investors want growth with sustainable economics and pathways and a longer term plan.‍
2.) Leading with a key differentiator is critical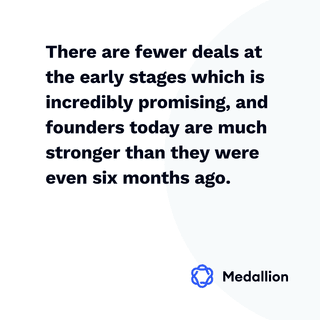 Great companies will get funded, but investors are looking for differential innovation. At the earliest stages, it comes down to whether a founder has a strong idea and a good, credible team.
This current period is exciting because, for founders who are jumping into the market and starting a company, it means they want it. They have something they're passionate about and probably have a fair amount of grit and expectation of the sort of adversity they're going to face and excitement or at least a focus on overcoming that.
For investors, it is a bit exciting to see the profile and the grit of founders jumping into the space right now–whether starting a brand new company or working their way to seed series or A stage, after what has been a very different last couple of years.
The founder's grit and having it show up in deals is one of the more exciting things for investors when evaluating new deals.
3.) New opportunities are on the horizon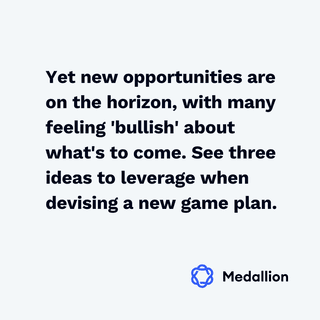 We're on this 20-year journey for the transformation of digital health and there are plenty of opportunities for early and late-stage companies in the space. In some sense, there's so much more room in healthcare than in the technology itself, simply because it's an industry that tends to be touched later by technology.
For early-stage founders, find something for which people will pay money and make sure that there's a payer. For later-stage companies, get back to basics. If your business is working very well right now, this may be the perfect time to be offensive. You can buy other companies or hire great employees; you can price things to get customers from others. You can do all sorts of very aggressive tactics if you have the financial wherewithal to do it.
For all groups, the current pace of the industry presents a massive opportunity to flex different muscles, think about things with a new lens and problem-solve in different environments.
For more information
The content in this post was taken from our conversation with three prominent investors during the annual Medallion Elevate conference to discuss the industry's current state, opportunities for founders, and how to catch the attention of investors.
Elad Gil is a serial entrepreneur, investor, and Co-Founder of Color Health, which provides the technology and infrastructure to power large-scale health initiatives.
Laura Veroneau is a Managing Partner at Optum Ventures, a venture capital firm partnering with extraordinary entrepreneurs to fundamentally change health care.
Finally, Julian Harris, M.D., is an Operating Partner at Deerfield, an investment firm dedicated to advancing healthcare through information, investment, and philanthropy—all toward the end goal of cures for disease, improved quality of life, and reduced cost of care.
For in-depth coverage on this topic, we encourage you to check out the original posts here and here.
About Medallion Elevate: The Future of Healthcare Operations
At Medallion's inaugural debut, Elevate: The Future of Healthcare Operations, healthcare executives, founders and leaders came together and highlighted the collective optimism of an industry that's ready to elevate and advance the industry.
It represented actionable insights, disruptive ideas, and ground-breaking insights from some of the best healthcare leaders, visionaries, investors, and founders. For more information and to view the sessions on demand visit: https://elevate.medallion.co/events/medallion-elevate-2022/registration
Today and every day, we celebrate the critical endeavors of these health leaders and changemakers. #MedallionElevate