Three ways to streamline provider credentialing
Navigating provider credentialing comes with an air of distress–and a degree of pain. Learn three things to implement that can help get your providers in-network with payers faster, and extend your reach of care.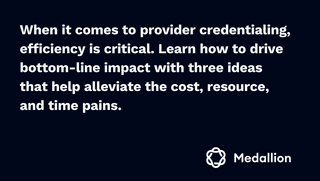 Provider credentialing is a laborious and necessary process that requires precision, attention to detail, and patience. The most common challenges faced by most healthcare organizations when it comes to credentialing is dealing with lengthy processes and timelines, lack of resources, and inefficient workflows.
We've seen organizations successfully navigate the intricacies and ease the administrative burden by adding three critical elements in their credentialing proces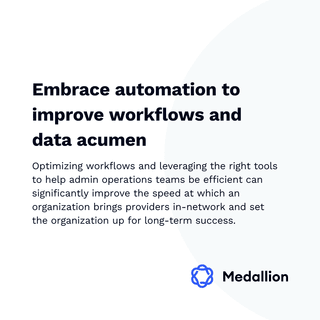 Automation equals improved efficiency, and with that, an organization can reduce the time admins spend switching between tasks without losing data accuracy to help them deliver better patient care by leveraging automation.
Keep in mind: Healthcare organizations must comply with each accreditation body's guidelines, such as NCQA and CMS, standards, and regulations to eliminate bottlenecks for faster provider onboarding and reimbursement. Working with an NCQA-accredited third-party organization can help solve this challenge because the accreditation guarantees that the organization is already following the correct regulations appropriately.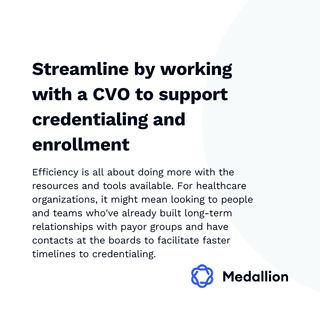 An end-to-end platform like Medallion combines automation with personal human support for faster provider onboarding, credentialing, and reimbursement. It can empower any size team because it improves control and visibility of provider data, allows organizations to scale operations, ensures an organization is audit-ready, and reduces financial risk while alleviating frustration and burnout for providers.