How to balance the 4 new priorities for delegated credentialing
With the complexities associated with delegated credentialing, fast-growing provider groups can't afford delays caused by bottlenecks in the process. Read the blog to learn how to smooth the payer enrollment process and achieve maximum efficiency by balancing these top four delegated credentialing priorities.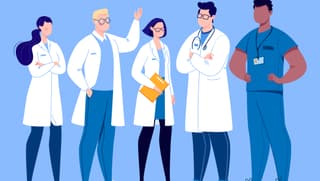 For many health organizations, the changing landscape of healthcare and demand for new services has created greater opportunities for market growth and expansion. While that may be good news for provider groups and virtual care companies, enrolling the new flux of providers into health plans often entails a frustrating and challenging process. With the lack of a standardized process to maintain and monitor provider data, combined with lagging timelines to delivery and reimbursement of care, many providers are turning to delegated credentialing to take control of the enrollment process.
But taking control is not as easy as it seems. With the rise in telemedicine and patients increasingly seeking out new modes of care, there is more provider mobility than ever before — increasing the volume of credentialing efforts required to access and verify provider data with speed. Besides the potential for lapses in network participation, these obstacles interfere with a healthcare organization's ability to generate revenue while they wait for a multitude of applications to be cleared and enrolled, further hampering organizational growth.
What is delegated credentialing?
Delegated credentialing is when a credible and proven health organization is provided authorization by a health insurance carrier to perform provider credentialing on their behalf. Provider groups that choose to undertake delegated credentialing in-house typically employ or contract with 100+ clinicians, and must go through an application process to earn Approval for Delegation from each payer before accepting claims as an in-network provider.
With payer enrollment taking anywhere from 30 to 180 days per provider, many clinician groups choose to perform delegated credentialing in-house to reduce the amount of time it takes for providers to become in-network. Virtual care companies and group providers also turn to delegated credentialing to:
Manage a growing volume of provider applications
Achieve faster time-to-reimbursement from payers
Optimize network growth 
It's important to note that while a provider may have previously been fully credentialed with a payer in his or her previous place of employment, the in-network status of the provider is only accepted by the group that performs the delegated credentialing. That means new providers must re-enroll with the payer before delivering patient care or receiving reimbursement. It's also one of the reasons why maintaining recency in provider records is so critical.
Fast-growing provider groups can't afford delays in the payer enrollment process. While delegated credentialing can be a complex undertaking, there are ways to achieve greater efficiency in the process. We explore the benefits of handling credentialing in-house and how best to balance (seemingly) competing priorities when paying the path for payer enrollment success.
#1: Accurate provider records
Credentialing providers is critical to the credibility of health organizations and to ensuring patient safety. Because credentialing requirements vary from payer to payer (as well as from state to state), it's incumbent upon health systems to understand who their providers are and to maintain accurate provider records.
Failing to maintain complete provider files can result in costly regulatory risks. For payers, erroneous records can result in penalties up to $25,000 per day per beneficiary or bans on enrollment in programs such as Medicare. When a health system is approved for delegation, they take on these risks and others, such as medical liabilities.
Provider groups can help expedite the credentialing process by ensuring their administrators have the right knowledge and training to successfully execute credentialing activities, and by strongly encouraging providers have gathered all of the necessary information (such as their licensing and certification, work experience, professional references, etc.) ahead of their credentialing application.
#2: Drive down overhead costs
Maintaining accurate provider data is a big problem in health care-- which can pose a financial challenge for many provider groups. According to Health Plan Week, hospitals, doctors, and health insurers spend more than $1.2 billion a year on inefficient and redundant tasks related to maintaining provider data accuracy.
While insurance carriers bear the brunt of these costs, provider groups that choose to take on the enrollment process on their behalf risk similar cost increases as more staff and hours are needed to handle physician, nurse, and therapist applications. Currently, payer enrollment costing can range from about $2,000 to $3,600 per clinician. For care groups employing 100 providers or more, these costs can quickly add up.
Through smarter processes, software and workflows, provider groups can effectively manage their overhead investment related to payer enrollment-related credentialing.
#3: Control over growth
Delegated credentialing puts group providers and virtual care companies with large numbers of clinicians in the driver's seat. Instead of relying on payers to work their way through the mountains of provider applications, it gives providers the opportunity to control the credentialing workflow from start to finish. Ultimately, this allows more visibility into the process, avoiding the "black hole" syndrome of information going in with little knowledge of when enrollments will be authorized.
According to the HFMA, physicians often contract with as many as 25 health plans and telemedicine doctors can be credentialed at hundreds of organizations.It sounds like a lot, but major payers might be reviewing thousands of provider applications at any one time. Waiting for a provider's turn in the queue can delay the credentialing process for weeks or months, putting patient care and billings effectively on hold.
Today, clinicians have more employment and contracting options available than ever. That can create large-volume enrollment needs, and also potentially regular clinician turnover, for groups providing care to patients. With delegated credentialing, providers aren't subject to the timelines of the payers, thus increasing control over their growth potential.
#4: Create a best-in-class onboarding experience
Now that clinicians have more flexibility in where and how they choose to work, it's important for provider groups and virtual care organizations to create an attractive, hassle-free work environment. With the rapid growth of telemedicine practices, for example, this has become an emerging competitive differentiator.
Clinicians today have more autonomy over when and how they will work. When bottlenecks get in the way of the credentialing process, providers may resent a clunky onboarding process — and that's a problem that can trickle down to job satisfaction, quality of patient care, and choice of employment.
According to a recent study published in JAMA, pandemic restrictions and related regulatory changes have allowed physicians greater flexibility and potentially altered physicians' work activities and environments. That combined with the heightened clinician supply-and-demand imbalance also give physicians, nurses and other specialists more empowerment and opportunity. Per a recent study by the Association of American Medical Colleges (AAMA), physician demand will grow faster than supply, leading to a projected total physician shortage of between 37,800 and 124,000 physicians by 2034.
For an emerging clinical practice, or for an even more established one trying to bring new providers into the fold, a negative clinician experience can drive away qualified clinicians-- and ultimately cause reputational damage over time. The results? Heightened challenges in recruiting the limited qualified clinicians available today.
Leverage the advantages of automated credentialing software and optimized workflows
When it comes to delegated credentialing, group providers don't have to go at it alone. An advanced, automated credentialing platform can help administrators quickly and efficiently manage provider data and accelerate the path to compliant care delivery.
Medallion's innovative credentialing platform is the fastest way to onboard new providers and streamline the delegated credentialing process. Our technology integrates directly with primary sources to automatically verify credentials and provides automated notifications when ongoing monitoring is needed. Medallion also optimizes workflow by leveraging advanced technologies, such as AI and analytics, enabling the best process possible for payer enrollment.
Our technology also makes it possible for health systems to funnel cost-savings into digital infrastructure developments, such as better technology to power virtually-enabled visits and tools to protect patient privacy.
By eliminating administrative inefficiencies, Medallion is helping providers spend less time on paperwork — and more time providing care to patients, wherever they may be. If you'd like to learn more about what Medallion can do for your organization, request a demo today.
Command control over every part of your provider operations process
See how Medallion frees you from complicated workflows and administrative overload.