Empower provider credentialing with a direct CAQH integration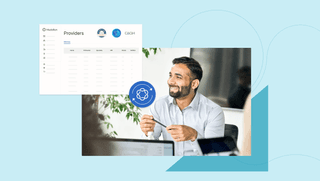 "Eliminate human error" is the name of the game for most credentialing teams. 
Your credentialing process is like a tightrope walk after all: one misstep, no matter how small, can lead to significant consequences.
A credentialing solution, however, isn't just about creating balance. Tightrope walkers can see the rope beneath their feet. Credentialing solutions need to move teams from operating in the dark and prove its value by reducing mistakes, delays and inefficiencies and through repeated use. 
Any delay in achieving this result leads to operational delays which then lead to astronomical costs for healthcare organizations: A single day's delay in provider onboarding can cost a medical group $10,122 per provider and latent administrative errors contribute to a staggering $20 billion a year in preventable healthcare mistakes.
But this human error problem is also the inspiration behind Medallion's one-of-a-kind CAQH API integration, which auto-fills the information needed in a provider's profile 100% of the way. Our CAQH integration focuses on minimizing your and your providers time spent during onboarding.
Successful credentialing process isn't just about saving time and money — it's about ensuring the very foundation of your operations is solid and unshakeable. 
And the success of your process depends on transforming the onboarding journey into a path of clarity and precision. Help eliminate the risk that comes with manual processes and speed up your providers' time to see patients — using Medallion's CAQH integration in a few simple steps. 
Saving time and eliminating manual work: What your teams really want
Credentialing can be a lengthy process — provider onboarding can take weeks or months. As practices grow and the sheer volume of credentialing requests surges, the potential for human error inevitably increases — we hear often that it's a struggle to gather provider data, and it often falls on the shoulders of operations administrators. 
Understanding CAQH integration and the power of APIs
APIs, or application programming interfaces, are the bridges that allow software systems to interact. Picture an API as a translator, making sure diverse systems sync up and communicate effectively. In healthcare, APIs provide instant access to critical provider data, pulling from multiple sources like, ensuring data flows effortlessly between different entities.
Integrating with CAQH for streamlined data management
CAQH, the Council for Affordable Quality Healthcare, is a non-profit alliance of health plans and trade associations that aims to simplify healthcare administration through collaborative initiatives. It also focuses on simplifying healthcare admin tasks — offering a unified source of provider data, eliminating the need to juggle multiple databases. Its stringent data standards ensure regulatory compliance, giving healthcare organizations peace of mind.
Shake yourself from the status quo (with help from Medallion's CAQH API integration)
Unique to Medallion as a CVO (Credential Verification Organization), is our open and direct integration with CAQH through an API. We are also the only CVO with this connection due to our personal relationships with CAQH.
What this means for healthcare organizations. Well, there are four driving forces that influence organizations to either stick with what's not working on take a chance on something new: 
The push to find a better solution that solves a time or monetary issue.
The allure of what switching to a scalable solution could achieve.
The worry of the risks associated if you don't make a chance. 
The fear you're not operating to the best of your ability.
Sometimes, understanding these forces leads to a realization of the need for a more streamlined process.
Think about a product like Dropbox. You use it to make file sharing and storage straightforward and efficient, which means you're not overwhelmed with countless features. If your team is large, you may find its collaborative feature most important and are saving you time. 
Just as Dropbox simplifies file sharing, Medallion's CAQH integration streamlines provider onboarding. It automates data intake, ensuring accurate and up-to-date information.
Implementing tech-enabled onboarding for a better provider experience
Understanding the need for change is just the beginning. Transitioning requires context. Imagine embarking on a cross-country trip without a map. Imagine setting out on a cross-country road trip without a map or GPS. Sure, you know your final destination, but without clear directions, you're likely to take wrong turns, face unexpected detours, or even end up lost.
Over 300 customers choose to partner with Medallion for making this type of change in their credentialing and provider onboarding processes, and our CAQH integration is a big reason why.
To accelerate provider profile creation and reduce manual effort, Medallion has an in-platform integration with CAQH to import provider data.
What it offers our customers: 
Accelerated profile completion.

Option to transfer full of select CAQH data fields.*

Comprehensive report storage within the Medallion platform for complete record keeping.

Up to 100% profile population via CAQH data import.
*Clients must select manually.
Bottom line: Medallion's direct CAQH integration creates less duplicate work for your providers and simple access to the data you need.
Build a better credentialing process with Medallion's CAQH integration 
Saving time, increasing speed and efficiency is the bread and butter of most healthcare organizations, so it pays off to focus your credentialing efforts on improving your provider onboarding and credentialing flows. Medallion's CAQH integration moves you away from the clutter of spreadsheets and gets you on the way to what matters most: excellent patient care delivery. 
Credentialing is something of a speciality at Medallion. Our vast collection of products and solutions serves as a perfect way for improving your processes. And our passion extends beyond products and solutions. We also recently held an in-depth free event at Medallion Elevate to give you deep insights you need to transform slow processes into efficient operations and faster paths to revenue.