Medallion Elevate returns: Igniting transformation in provider operations, empowering healthcare
Elevate is back and better than ever. Join us on September 20 for this exciting event. Register inside.

By Medallion
Jul 12, 2023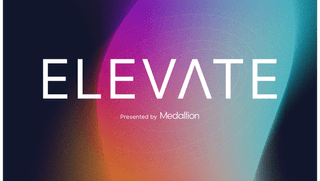 Last year, we launched Elevate as a platform to unite the healthcare operations community. This community, whose crucial work is the backbone of our healthcare infrastructure, often goes unnoticed and underappreciated.
A group dedicated to reducing the staggering amount of money, a quarter of $4 trillion spent on health care administration each year.
A community that cares so deeply about creating equitable and inclusive care for all.
And we accomplished just that. With nearly 1,000 participants, our inaugural virtual event brought together this community to offer actionable insights on how operational, clinical and executive leaders can help lead the healthcare transformation.
Medallion Elevate 2023
If last year lit the fuse, then Elevate 2023 is the combustion. We're thrilled to build on the momentum of our initial triumph, and we invite you to be part of this journey with us.
Medallion's CEO and Founder, Derek Lo, will kick off the event with an opening keynote you won't want to miss. As the day progresses, you'll hear from dozens of healthcare leaders, entrepreneurs and community advocates on:
New capabilities for elevating healthcare
Driving provider satisfaction
Achieving operational excellence 
Plus, as an attendee, you will have access to exclusive networking opportunities where you can connect with your industry peers, thought leaders and product experts throughout the virtual event.
Register today!
Elevate 2023 enables our community from near and far to join our live sessions anytime from anywhere.
Everyone — from CEOs to operations specialists — will glean inspiration and ideas for finding success in igniting transformation in provider operations, so that we can together empower and evolve health care in this ever-changing patient-first world.
Register at Elevate 2023 to stay up-to-date on our incredible lineup of speakers, sessions and more. See you there!