Why a circle will transform the future of healthcare
A look into our refreshed brand: How (and why) we've updated our look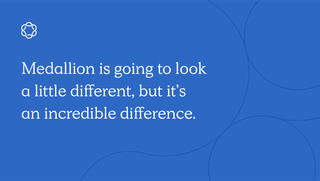 As it goes, change is not a linear process; it's all-encompassing and happens in many different ways.
Today marks the first day we put a fresh coat of paint on our brand identity.
Medallion launched in 2020 as a tech company built for other tech companies. The first challenge we set out to solve was how to license providers across state lines efficiently and cost-effectively for digital health companies.
It was in the throes of a pandemic when many healthcare organizations struggled with adjusting their operations to meet their patients where they were — when they couldn't come to them.
If you wanted to license a provider across different states, you could spend countless hours filling out applications and chasing down a provider's experience, documentation and other necessary details.
If you needed to do it for multiple providers across multiple states, it would take months to complete, numerous phone calls to state boards and delayed processing times. You would then repeat the process for every new provider hired.
Doing this through Medallion made it easier, faster and less expensive for these digital health companies to automate parts of the licensing process.
In turn, they could more quickly and virtually connect patients in need with providers licensed in their areas and deliver the type of care the new world required.
We saw the critical role Medallion played in cross-state licensing for digital health companies. At the same time, many of our healthcare partners expressed interest in other crucial aspects of provider operations like payer contracting, payer enrollment, credentialing and ongoing monitoring.
As our platform expanded to meet the needs of our growing customer base, we saw our reach extending beyond digital health into new markets. We saw provider groups, hospitals, health systems and payers experiencing many of the same administrative and operational challenges.
It became apparent at the time that significant opportunities lay ahead and positioned Medallion to take the next natural step with our aspirations as our guiding light.
What came next was unexpected.
As the pandemic and the years after unfolded, the fabric of healthcare operations unraveled, and it became clear that the types of challenges we were solving were here to stay.
It required a new platform backed by experienced healthcare operation leaders and modern technology that fuels automation and integrates into existing operations workflows.
By solving the problems of provider operations, we built the most efficient process with the necessary flexibility for teams to manage their operations their way.
It's trickled down into making a new way of delivering care and meeting their patients where they're at even possible, as organizations leverage Medallion's platform and team to do this.
And it's enabled us to solve new challenges for these healthcare organizations as our partners have more time for their doctors, nurses and therapists to spend with their patients, which enables better care.
Expanding to evolve and serve the next era of healthcare
Change is a never-ending evaluation, improvement and re-evaluation cycle. No matter how often we think we have it perfect, there is always room for improvement and transformation.
We have entered the next phase to meet the new era of healthcare, and it's clear: Medallion is the faster, easier, and less expensive way to handle licensing, enrollment, credentialing, ongoing monitoring and more.
Today, Medallion increases affordability and access to high-quality healthcare for people in disadvantaged areas, people living with dementia and their loved ones, mothers-to-be, patients with chronic health conditions and more.
We do this by eliminating the operational red tape for over 300 digital health companies, hospitals, health systems, provider groups and payers.
We've returned over 250,000 hours to healthcare operations teams through our broadly capable technology, agile experts and our record of gap-bridging innovation.
Medallion's new visual identity embodies what has made all of this possible and conveys what makes us unique.
It's an indicator of our evolution and progress. It represents an experienced team and reliable platform trusted by hundreds to offload operations how they want when an insurmountable amount of regulatory complexities stops their organizations from moving forward.
It puts our core beliefs — optimism, progress and boldness up front — representing what anchors Medallion's team and products:
To see an industry reinventing itself to keep up with the provider and patient demand requires optimism.
To push boundaries and pave the way forward for underserved back office teams and enable access to care requires a progressive mindset. 
To face challenges and lower operating costs for health organizations while allowing lower prices for consumers requires a bold perspective, product and team.
Providing unbreakable support for our customers
A circle is unbroken and complete. Our refreshed logo, fonts and visual communications carry the same weight:
Our new mark and shape language represent our core values as the foundation we're built upon and that our customers rely on. Our logo retains everything we loved about our predecessor while leveling up its sophistication, wholeness and oneness.
It is a lens through which we can highlight and share the accomplishments of our customers and partners. Our typeface echoes the roundness found in our mark and provides an unmistakable connection to our roots in tech and the healthcare landscape. 
It's an eye that sees the future our customers are bringing to life. We often think of a circle as a symbol of unity which extends to our support and commitment to work hand-in-hand with our partners to reimagine the industry.
We can better serve our mission of transforming healthcare by rebuilding our brand. Our brand is unified, efficient and comprehensive, as the circle implies.
Our refreshedimage and tone are essential to continue communicating and sharing how we are making healthcare more accessible, reliable and affordable for everyone.
We're optimistic about what comes next. We're optimistic about our future in transforming the accessibility of care. We're optimistic about a community craving to unite to make a difference.
Thank you for joining Medallion, whether we are partners, colleagues or part of the team, in reimagining healthcare operations and reshaping healthcare.

Ready to evolve your provider operations your own way?
Free yourself from complicated workflows and administrative overload.