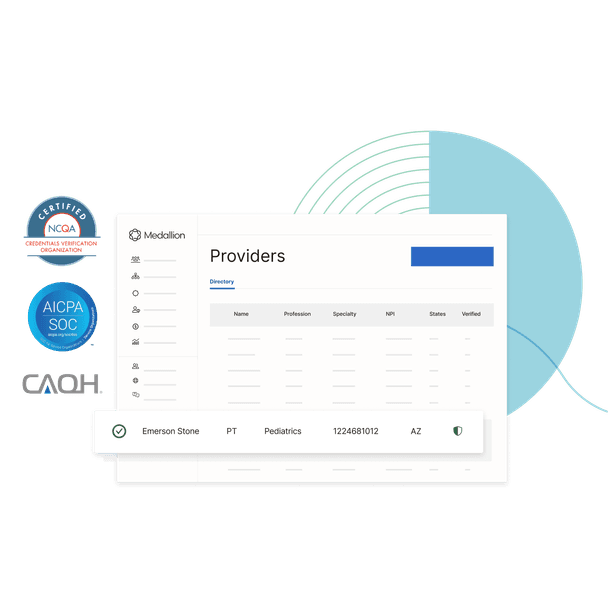 CORE PLATFORM
All your data. One record. Total control.
Medallion Core centralizes your provider network data into one seamless, easy-to-use platform like no other.
Medallion works with hundreds of
,
and
Medallion works with hundreds of provider groups and health systems, payers, and digital health companies.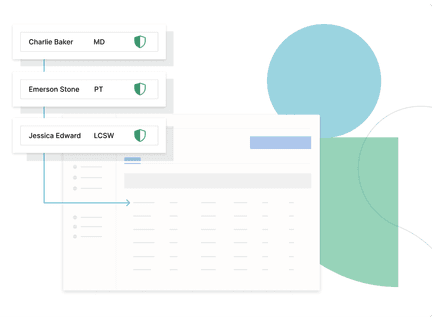 AN END-TO-END PLATFORM
One code, by design, for peak performance
Medallion Core's unified platform removes the chaos of multiple interfaces. Experience just one system for maximum efficiency. No more hitches from piecemeal add-ons or acquisitions.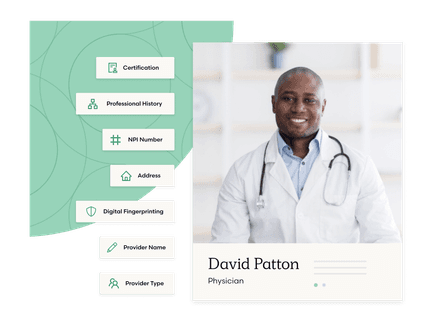 PROVIDER PORTAL
Intuitive onboarding and communication
Simplify onboarding, profile completion and task management in a single provider profile. Our in-platform communication tools enhance provider engagement and satisfaction.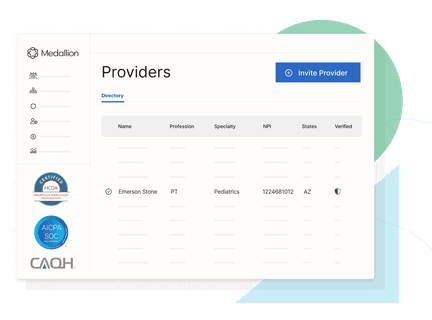 CAQH INTEGRATION
Move with greater speed and efficiency
Access and update massive amounts of health data in real time with Medallion Core's direct CAQH integration. We pull your provider data into the platform to complete 70% of a provider's profile, reducing the repetitive nature of administrative and manual work.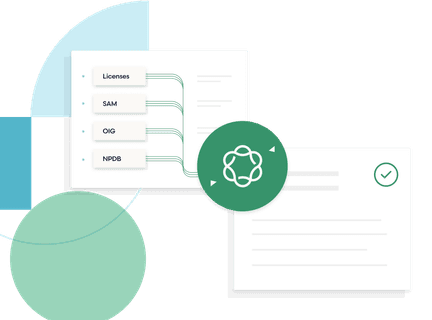 OPEN API
Drive seamless data exchanges with your CRM
Harness the power of our developer-friendly API for automating two-way provider and organization data exchange. Its varied endpoints streamline account provisioning, expedite profile completion, and facilitate requests for new licenses, enrollments, or credentialing files.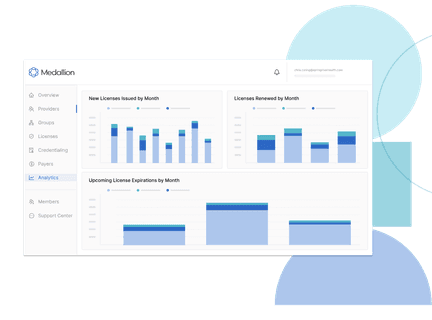 PROVIDER DATA MANAGEMENT
Take control of your provider network
Unify provider data, roles, and practice settings on a single platform. Use our API with existing CRMs and ensure compliance with advanced filtering and supervisor assignment tools. Focus on growth, we'll handle the rest.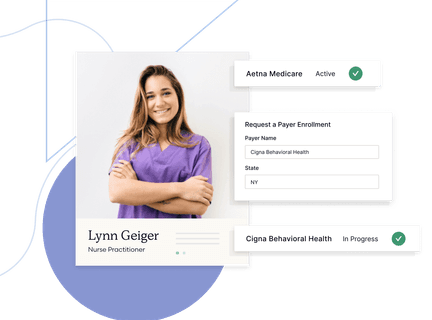 ADMINISTRATOR TOOLS
Gain transparency with rich account tracking insights
Medallion provides clear visibility into account details like personalized settings, custom fields, roles and permissions. Track provider profile updates with a rich audit history. Our platform simplifies admin tasks, nurse supervision and agreement tracking, communication and collaborative agreements for smoother processes.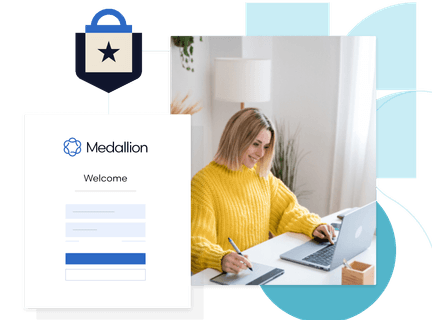 ACCOUNT SECURITY
Reliable, transparent security
Operate securely with Single Sign-On and detailed audit logs. Stay informed of account changes through time stamps and logs, maintain control over organizational data and easily access essential details like contacts, settings and usage data. Secure operation made stress-free.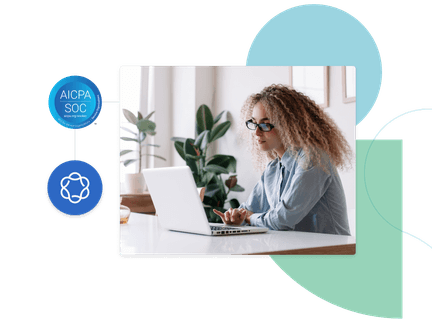 UPHOLD COMPLIANCE
Ensure your organization stays compliant
Know your valuable data is always safe and protected as Medallion's flexible platform and technology is SOC 2 compliant for continuous automated security compliance. Peace of mind: delivered.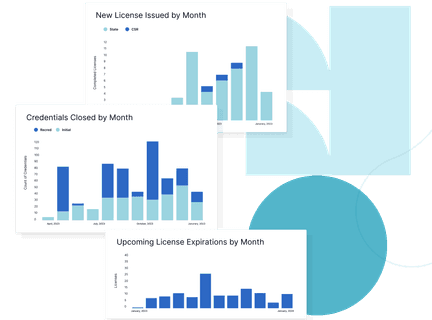 REAL-TIME ANALYTICS
Get the insights you need
Granular reporting that enables you to always have a pulse on turnaround times, statuses and more.
"

Without Medallion, we would have had to hire another person. Medallion frees up 10-15% of our team's time.

Raj Inamdar

Director, MSO affiliate

Read case study

"

Working with Medallion was a total game-changer for us. Medallion's team understood our needs and quickly implemented solutions that allowed us to scale at a pace we didn't think was possible. They credentialed our full year's forecast of providers in just one month - that's efficiency.

VP of Network Development

at a Tennessee-based insurance payer

"

I would recommend Medallion to anyone in clinical operations.

Irina Shtemler

Clinical Network Operations Lead

Read case study

"

The robust security and IT review carried out by Medallion has given us the confidence to continue expanding our team. Their solutions have truly transformed our licensing process, making it easier for us to onboard new staff in less time.

VP of Medical Affairs

at a leading national payer

"

We received a number of licenses very quickly – as in three providers in 15 states in under four months.

William Giandoni

CO-FOUNDER

Read case study

"

Medallion's platform is very intuitive, and we have very few providers reaching out asking for help.

Matthew Ortiz

Vice President of Payor Strategy and Relations

Read case study
MEDALLION PLATFORM AND TEAM
Trusted by leading healthcare organizations daily
32K+Providers on our platform

500K+Hours of administrative work saved

78K+Licenses, enrollments & credentials completed