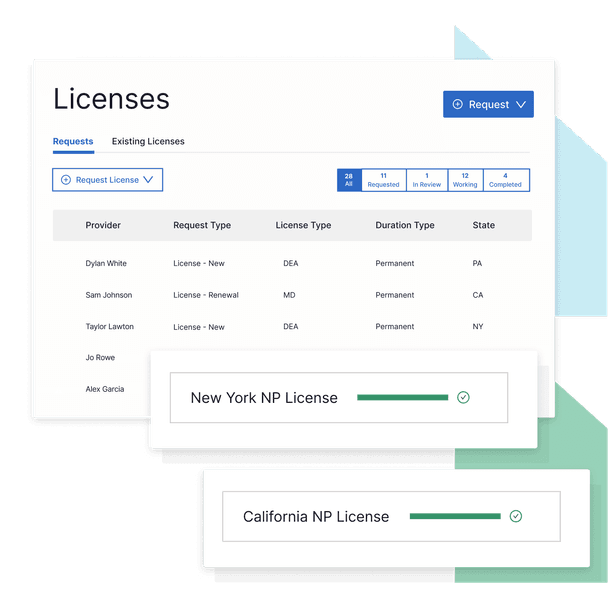 CROSS-STATE LICENSING
A faster, more efficient way to get providers licensed
Remove the guesswork from the licensure process and scale your organization without hassle.
Medallion works with hundreds of
,
and
Medallion works with hundreds of provider groups and health systems, payers, and digital health companies.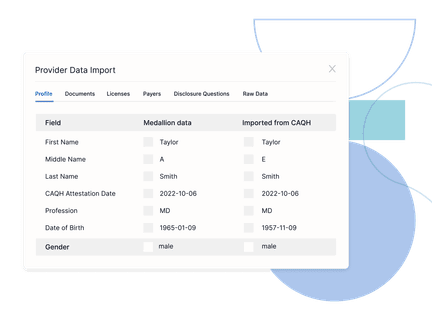 PROVIDER ONBOARDING
Let go of the cumbersome paperwork
Boost your provider onboarding process with a single platform designed from scratch. Streamline communication and gain insights through real-time analytics. Elevate your efficiency and turnaround times with the direct CAQH integration offered by the Medallion Core platform.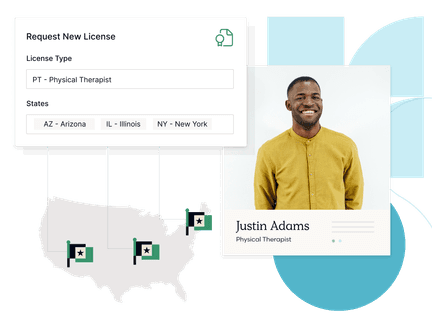 STREAMLINED LICENSURE
Get stress-free licensing in any state
Lean on automated workflows and a veteran team to overcome complex and diverse state regulations, telehealth policies and licensing portability issues, making your licensing process smooth and efficient.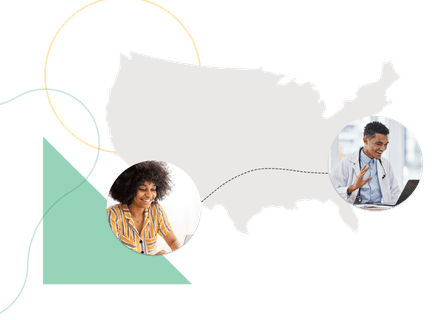 LICENSE MANAGEMENT
Broaden your patient reach
Request new licenses in all 50 states, Puerto Rico and the U.S. Virgin Islands at the click of a button. With our integration, digital fingerprinting and expert licensing specialists, we have successfully completed over 29,000 licenses.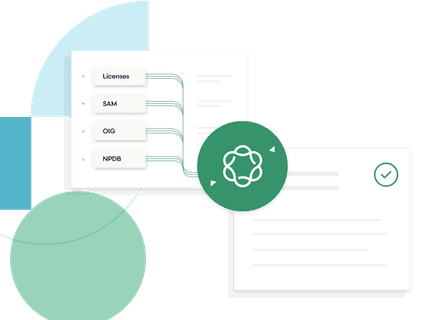 100% ACCURATE VERIFICATIONS
Automate intricate state license verifications
Skip the manual labor required to verify each license against state-specific rules and requirements. We ensure your team is always fully licensed and ready to serve your patients.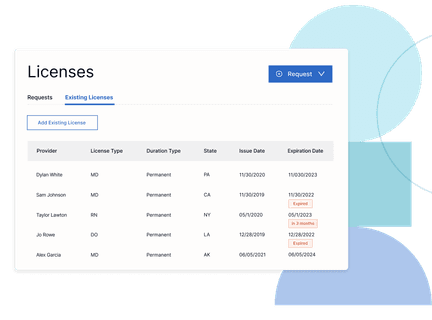 LICENSE STATUS TRACKING
Maintain visibility of your licenses at all times
Our real-time status tracking gives you a clear view of your license requests' status at any given moment.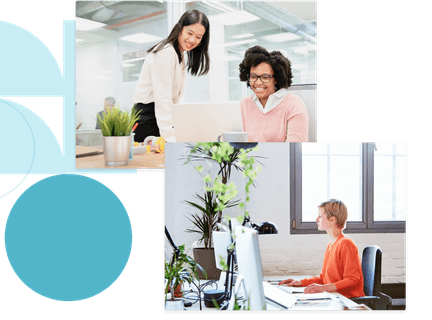 EXPERT-BACKED OPERATIONS ASSISTANCE
Make an impact with full support from a skilled team
Our operations team takes care of all the hard work, from form filling to liaising with state boards, allowing you to focus on providing excellent patient care and healthcare accessibility.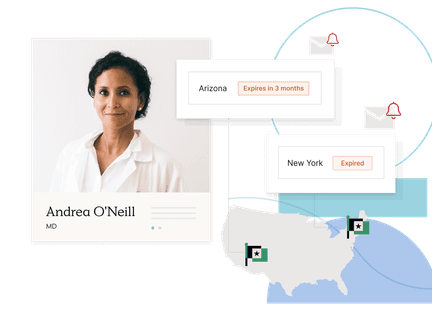 LICENSE RENEWALS
Always-on license renewals
Stay compliant and patient care delivery-ready with Medallion's automated license renewals. We alert you 90 days in advance, ensuring no interruptions — no effort required.