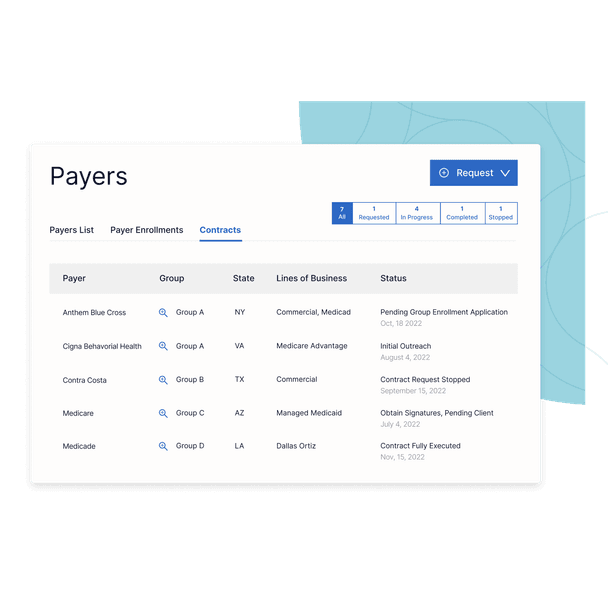 PAYER CONTRACTING
Maximize revenue with new payer contracts
Increase patient coverage and revenue by contracting with insurance payers. Share your goals, and we'll handle the rest – from initial outreach to contract finalization.
Medallion works with hundreds of
,
and
Medallion works with hundreds of provider groups and health systems, payers, and digital health companies.
CONTRACT NEGOTIATONS
Say goodbye to the headache of contract negotiations
Let Medallion handle it all - from the initial outreach to tracking down the right people to speak with, managing shifting requirements and negotiating on your behalf. So you can focus on what matters - growing your business.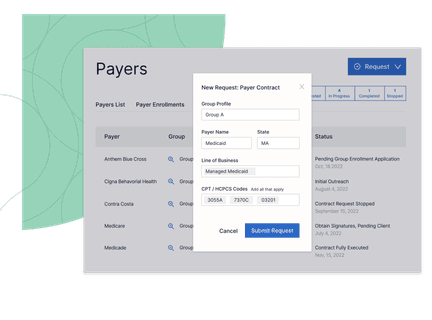 EFFICIENT WORKFLOWS
Reduce administrative time and resources
Leave the negotiating to us. Let our experienced team handle the heavy lifting of contracting with new payer networks, saving you time and resources.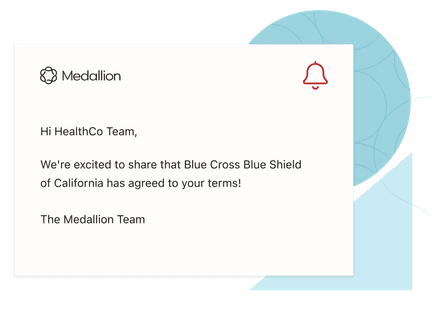 FULL VISIBILITY
Stay in the know every step of the way
Get weekly or bi-weekly updates across status, renewals, deadlines or additional criteria from Medallion's expert team, so you're always aware about where things stand.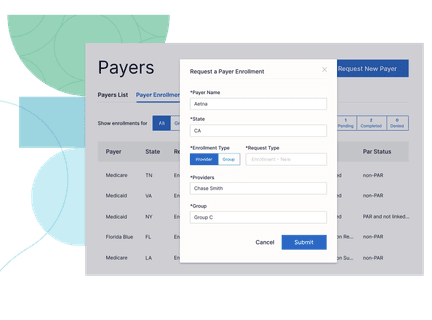 A CENTRALIZED PROCESS
Scale with enrollments and contracting in one place
Significantly increase patient access and revenue for your business by bringing payer enrollments and contracting together on one trusted platform.
"

Medallion's platform is very intuitive, and we have very few providers reaching out asking for help.

Matthew Ortiz

Vice President of Payor Strategy and Relations

Read case study

"

We received a number of licenses very quickly – as in three providers in 15 states in under four months.

William Giandoni

CO-FOUNDER

Read case study

"

I would recommend Medallion to anyone in clinical operations.

Irina Shtemler

Clinical Network Operations Lead

Read case study